How time flies – it was two weeks ago Team PIP met up in full force to enjoy one last fish fry during the 2011 Lenten season. And how this got buried in my Live Writer draft folder I'll never know! Hans, PIP Mom, the infamous Aunt Kathy, her husband Phil and I joined forces to dine at the German Central Club on Parma's Southwest side.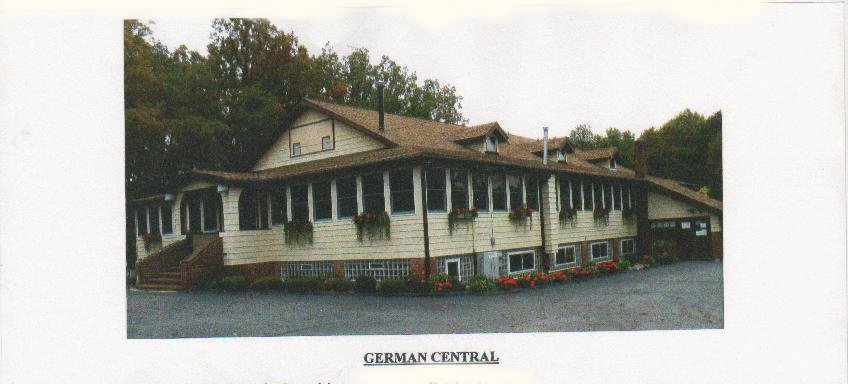 Picture and more info from the Parma Chess Club website (that even exists?!): German Central was founded on October 16, 1924. German immigrants purchased thirty acres of wooded land on York Road in Parma. It became a central meeting place not only for Germans, but for many other ethnic groups… German Central sponsors open-to-the-public dances two or thee times a month. Fish Fries are held during lent and in the fall. A social evening is held every Wednesday. Those interested can play cards, table tennis, table foosball, etc. All functions are open to the public.
The German Central Club is located at 7863 York Road just north of Sprague Road. Crazy Aunt Kathy and Phil had gone to this fish fry a few weeks back and called me on their ride out of the parking lot with nothing but praise. The place was rockin' when we arrived at 5:00PM. We waited for ten minutes before making it up to the serving line, filled with a plethora of Germans:
As Hans ran to the bar and snagged a beer, I checked out the menu and we made our selections:
While the German Central Club does purchase frozen fish, the process is something they are quite proud of. They purchase frozen Icelandic cod and thaw it in their refrigerators for several days. Then when ready, they hand batter each piece:
There was a baked version as well. Boy was I happy to see zero breading! A gluten free fish fry option DOES exist!
Each adult meal came with your choice of potato pancakes, a baked potato or pierogies. While their pierogies were not homemade, the server said "but they are very good". Hans would be the judge of that…
To maximize his food intake, I gave him my pierogies and Hans ordered the potato pancakes:
…and we ordered a baked potato on the side for me. Each meal came with the usual sides of coleslaw, applesauce and a slice of bread:
…and your choice of dessert:
Clockwise from top left: lemon poppyseed (with Aunt Kathy), chocolate pudding, some sort of almond cream cake, chocolate cake.
Here's what we thought on the fish fry dinner from the German Central Club:
The fried fish: Their fish already got the "thumbs up" from Aunt Kathy from her previous visit. Hans agreed with her, enjoying the breading the most. However, he was still lovin' on the perch from the week before and couldn't get past the memory of the Nice Place Café. If we've learned anything this year, cod is NOT my husband's favorite fish. That said, Hans did enjoy the German Central Club's offering, noting each piece was a good size, well seasoned and moist inside.
The baked fish: I was so incredibly happy to be eating at a fish fry! When we were in line, Phil said he thought his previous baked fish was a bit on the salty side. I agreed with Phil, but a strategic selection of a bit from the outside and a bit from the inside mad for a nice bite of fish. Perfectly baked, the fish was very moist and very flaky. I would gladly return and order it again.
The potato pancakes: These looked like those hash browns you get at a popular fast food joint, no? Hans would agree, but more of the mini variety. Nothing to write home about.
The baked potato: Nothing out of the ordinary, but properly cooked and a deal for $1.00. I was very happy to see this on the menu as well.
The pierogies: As I noted, I asked if these were homemade. While they weren't, the server on the line was right: these were DARN tasty for not being homemade. From the dough to the filling, PIP mom and Hans were quite pleased with this side dish. Another solid pierogi has been found in Parma, Ohio!
The applesauce and the bread: The standard options.
The coleslaw: My guess: the coleslaw wasn't homemade. It was mayo based and probably not creamy enough for some, but I appreciated this less dressed slaw. I like to be able to taste the rest of the ingredients. I'd say this was one of the best I had all season.
The desserts: The German Central Club had quite the assortment of desserts to choose from. Hans said the pudding was a store bought mix, but when you haven't had it in awhile, "it hits the spot". PIP Mom noted that in usual German style, the cakes were a bit on the dry side, but the frostings and fillings helped to balance them. Let's just say there wasn't a crumb leftover from the last course!
LONG STORY SHORT: The reason for the popularity of this fish fry was clear. Lots of food for reasonable prices combined with the support of a strong community always seems to be a winner. We were all quite pleased to have this as our last dinner of the Lenten fish fry season. The good news: the German Central Club brings back their fish fries in the Fall, so you don't have to wait quite as long to get some solid Lenten fare! Thanks again to Aunt Kathy and Phil for the great fish fry tip!