Don't forget: Voting for the second round of the Foodbuzz Project Food Blog Challenge is on! Visit my contestant page & PLEASE VOTE FOR ME!!
♦♦♦♦♦
It's hard to believe that our CLE Blogger get-together was over a month ago! Ladies – it's been too long since I've seen your smiling faces! When I originally posted my menu, several of you jumped at the chance to get the recipe for my infamous pasta salad. Well, here's your chance on this glorious Tuesday to find out…
TEN THINGS THIS TUESDAY: INGREDIENTS THAT HAVE FOUND THEIR WAY INTO MY PASTA SALAD
Before we start, you need some background:
My pasta salad recipe changes but always has three constants: pasta, veggies and one secret ingredient. There are a few add-ons which I'll note, but those three "ingredients" are always included.
This recipe was derived from my mom's original pasta salad. Strangely over the years, my family members preferred when I made it, compared to when my mom did!! I have a theory which has to do with the secret ingredient – which we both used in the same way!
The choice of veggies is up to you. Use what's fresh, what you like, what you have laying around. The more veggies, the better!
Let's get pasta tossin', shall we?
1. Pasta (DUH.) I used to swear by those packages of tri-color rotini, but all that did was give the salad some extra color. You can use any cut of pasta that a sauce will hold on to well. I used whole-wheat egg noodles above, but bow-tie and wagon wheels shapes are another fun way to give it visual appeal.
2. Grape tomatoes. I always include a pint of grape tomatoes in my pasta salad. I cut them in half and throw them in. Their sweetness add a great flavor and it's only better in the high of tomato season.
3. Black olives. This is another Alicia must add.  I don't really care that the three people that enjoy this salad the most (my husband, my brother and my father) all pick them out.  I LOVE THEM so they are staying in! I buy a can of extra large black olives and cut each olive in half, like the grape tomatoes.
4. Mozzarella cheese. I include this 50% of time – which is about the percentage that I remember to pick it up when I'm rolling through Marc's. I'll pick up a ball of mozzarella and cut it to a dice. However, I won't add it until right before serving as the cheese can melt in the hot pasta if you add it too early.
5. Celery. This is a new addition to the mix as I am venturing into using my mandoline slicer again. (I promise one day I'll share that sad, sad story.) The celery give the salad a nice extra crunch and is nice to the waistline.
6. Green peppers. This is another MUST add to the pasta salad. Again, I don't care that my dad picks them out. I like the texture and the flavor the peppers add. Feel free to mix it up and throw in some banana peppers instead if you'd like!
7. Zucchini. Again with the mandoline slicer, zucchini has been finding its way into my pasta salad, especially in the month of August when everyone is trying to find away to get rid of it!
8.  Pine nuts. This is my shout out to the one and only Aunt Kathy. Growing up, I looked to her for the best pasta salad in the world. I realize now that I loved it so much because she always added pine nuts to her bow-tie pasta salad creations. If you got the extra bucks to spend, use it on this splurge.
9. Pepperoni. While this is a staple of my mom's original recipe, I only add this when taking it to family barbeques. If you know you are serving a crowd of happy meat eaters, the addition of the pepperoni will go over well.
10. THE SECRET INGREDIENT. I still can't believe I'm divulging this, but here it is: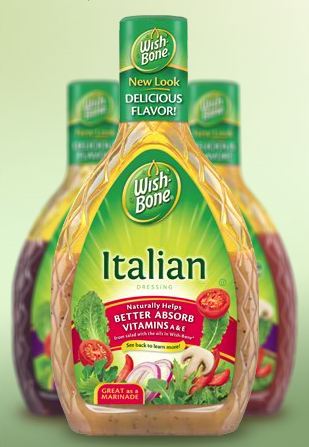 WISH BONE ITALIAN DRESSING. (photo source)
Yes, I am admitting to the world that I cheat when it comes to the dressing. This isn't some homemade creation. I buy a huge bottle of the stuff, shake the heck out of it and pour about a third of the bottle on the salad. I mix it well and then let the salad sit overnight in the fridge.
Before serving, I taste the salad to make sure that it has enough dressing on it without over-powering it. This is the big difference between my mom and myself: she tends to go a bit overboard in her dressing usage. We all know I prefer a lightly dressed salad, and I think I've made the rest of my family fans of that also. (We still love you Mom!)
So today's lesson: sometimes you have to make life easier and take it easy on yourself. If that means picking up a bottle of salad dressing and using whatever bag of pasta you have laying around, so be it. Things still can turn out pretty tasty in the end!
What shortcuts/pre-made ingredients help out to make your meal prep easier?